SAVE BIG! Limited Time December Supersale

December Supersale
What's So Great About our Cowhide Rugs?
From our ISO 9001 tanning process to our incredibly picky selection checklist our rugs are second to none. Our rugs stay looking amazing for years to come without shedding hair or curling edges.
Grade A Certified Cowhides
Our Cowhides are hand selected and only 15% make the grade. Properly tanned, ethically sourced Grade A Hides
No Surprises Guarantee ™
Quality without compromise, always get the exact rug you see on our website. Individually measured & photographed so you know exactly what to expect.
Get the Look For Less
Our A Grade Cowhides are sold elsewhere for $800+. Shopping direct saves you time & money!
Easy to Care For
Cowhides are VERY easy to care for! Regular vacuuming or using a broom along with our Cowhide Cleaner give you a very easy to care for rug even in high traffic areas.
Your Home Deserves to Look its Absolute Best.
The Perfect Cowhide Rug can do wonders to transform a room. From infusing varied design styles and colors seamlessly to visually anchoring the room, it's basically a must-have décor item to make an interior look pulled together and complete.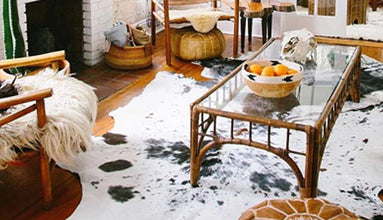 Sleek & Stylish
Cowhides rugs are the perfect addition to your bedroom, living room, or office with their sleek pile and stylish look. When it comes to your home, if it just "fits" right is such an amazing feeling!
You Will Love Our Rugs
We share your passion for wanting your home to look it's best! Every item you will find on our site is something we'd put in our own homes with complete confidence that you will love it for years to come. Thick, yet soft and supple these rugs are an absolute joy to walk over and stare at every time you pass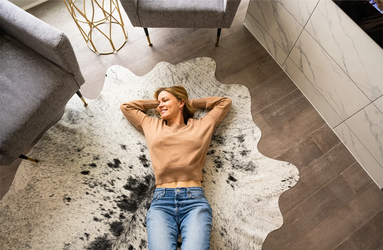 Give Your Friends Room Envy
Every time you enter your room you will do a double take. That's the feeling people get with their perfect rug picked out to bring any room of your home up to the next level. You'll be surprised how many people will ask, "wow where did you find that rug?"
Real Results. Results Very Typical.
Amelia N.
I love my brindle cowhide! This hide has a beautiful pattern and I'm so happy I found a site that allows you to choose your EXACT hide. I purchased the cleaning spray and used it to wipe down the cowhide when I received it and it gave the hair a nice sheen. I will be purchasing another for my bedroom and maybe a third if I can find a space for it! Thank you Cowhides Direct! :)
Greg S.
Love this cowhide rug. Looks just like what was shown on the site. Such a great value!
Jill H.
Thanks! The cowhide is perfect and exactly as pictured on your site. The ideal finishing touch for our great room. Can't stop staring at it!
Leese J.
Thank you so much for my beautiful hide. I'm still in shock the difference is made, so happy with the color, quality & softness of this hide. It's great! Happy client & glad I listened to the reviews.
Kimberly A.
This cowhide adds the perfect texture and contrast that I was looking for. It arrived promptly and is beautiful in person.
Hendrick T.
I love my cowhide rug it arrived quickly and looks exactly like the picture , the color is perfect in the room. I will definitely order from this company when I want another rug for one of my rooms. I had a question about how to remove is folds and they responded immediately and their advice worked perfectly
Karyn C.
I was really pleased by the quality of the product for the price point. So glad no branding on the hide. Delivery service was fabulous. Measurements posted were accurate for both hides which was a huge help.
Katie M.
We love our new hide rug. Very fast shipping. It is perfect!!
Maddie G.
LOVE OUR NEW HIDE! It was packaged well and was clean and rolled right out into our large space to warm it right up! (The pups love it too!)
Kurt B.
Best selection and prices I've found on the web; I think this may be the start of an obsession!
Frequent Questions
Q: After I place an order, will you send me pics of rugs to choose from before shipping out?
A: The actual rug you see in the picture here since it is noted as the actual rug will ship out exactly as you see. That is one of the benefits of shopping with us! =)
---
Q: Can you tell me how to care for a cowhide? Vacuum it? Sweep? Other? thanks in advance
A: We recommend using your standard vacuum without the beater bar option. We also sell a cleaner product that works great. A thing to remember is that cowhides are very stain resistant so they are great for high traffic or active homes/offices. Do not wash in a washing machine or dry clean.
---
Q: Will it lay flat? It appears to have wrinkles in the picture.
A: The rugs many times when we photograph them are coming straight out of the box. As you can see from the photos they will lay flat almost immediately. After a few days, these rugs will continue to flatten out and lay flat for years to come. Our cowhides come with instructions to remove if you were to have any stubborn wrinkles with ease, they are not permanent.
---
Q: Is this real cowhide or synthetic? And what is the backing?
A: Our cowhides are 100% real cowhide with a natural suede backing. We do not sell faux cowhides. 
---
Q: I've ordered a cowhide from another site that had a terrible smell, do your rugs have the same?
A: Our rugs are chromium tanned by the highest quality standards the same we have been doing in our family for over 25 years. The Hudson Hides brand we carry is considered a premium line in the industry and will not have these harsh smells that are common among much less expensive, inferior cowhides. Your cowhide will smell like finished leather.  The finished leather smell does dissipate over time. 
---
Q: Why are some of the rugs so much more expensive for the same size?
A: Cowhide rugs in certain colors and configurations can be extremely rare so they are less common. For example some cowhides like white we only get around 20 per 1000 cowhides we bring into our tannery which causes the rug price to increase because of its rarity.
---
Q: Are these rugs soft or rough?
A: Our rugs because of the tanning process are much softer than many rugs you will find at less expensive price levels. We use only chromium tanning which produces a superior cowhide rug that is soft and supple which maintaining the ability to last in your home for a lifetime. The Brazilian rugs we sell are typically your softest option that feels like a buttery smooth material. European breeds will still be soft but have a different feel.
---
Q: Do these hides shed the hair?
A: These are chromium tanned hides you can literally pick the rugs up by the hair and it will not come out. Normally you only see this with much less expensive, inferior tanned hides. 
---
Q: How long will a cowhide last?
Since they are a natural animal byproduct, cowhides have a very long lifespan that will last many years and in some cases, many of our original customers have had their rugs for over 20 years now and still look amazing in their homes. 
---
Q: How are the cowhides tanned?
A: Our cowhides are tanned using what is called the chrome tanning process. This causes the back of the hides to have a slight blue-grey color. This is the best technique for soft and supple leather. This process is long and strenuous and takes over 8 hours to finish. Our tanneries use only environmentally responsible methods of waste treatment during this process. 
---
Q: Can these cowhides be used for upholstery projects?
A: Yes, our cowhides are used by upholstery companies nationwide. The Brazilian hides will have a softer to the touch thicker material that is great for hiding flaws in your upholstery project. The European breed hides won't be as thick but still have an amazing finished look and used on many projects we see our clients completing.
---
Q: Can I return the rug if I don't like it?
A: Returns are no problem at all if you decide that the cowhide is not right for you, please call us within the first 30 days and we will issue you a return authorization. 
---
Q: can you please give some kind of a size of the rug???
A: We measure our rugs individually from the largest point width and height wise and post on this page. If you do not see the measurement on this page please request a certain size and we will email you back with some examples in this size range. 
---
Q: When will my product ship?
Most products ship within 24 to 48 hours.  If we cannot ship your product within that time frame we will contact you by email and/or phone. 
---
Q: Is this considered leather?
A: Yes, this is a genuine leather cowhide rug with the hair on. 
---
Q: My animals have a tendency to mark their territory on new rugs. Will this stain my rug?
A: Cowhides are very stain resistant! We always recommend cleaning the area by blotting with a damp rag to dry the area. We also provide a cleaner that is great for situations like this and a 5-year protection plan that if you were not able to remove a stubborn stain someone would come out free of charge to clean your rug. 
---
Q: Do you ship Worldwide?
A: Yes, we ship worldwide as long as you have a physical address we can make it happen!
About US
Starting out with just a few hides to sell, we had very humble beginnings. We learned through years of traveling the globe sourcing hides and testing various tanning methods. What we found after searching through hundreds of suppliers was that cowhides are just not created equally. From the surface many look great, but then have issues down the road. Once online came around we started seeing most companies offering cowhides. They would show a picture of a "best case scenario", not the actual rug you would receive.
Our family business was never that tech savvy, but we knew it would be worth it to bring our rug offerings online but with a twist. When you see a rug on our site, you will know that is the exact rug you will receive. We stand behind our products offering some of the best return and exchange policies you'll find anywhere online. With the combination of our hand selected, top quality rugs where we search through 1000's of cowhides to end up with only 100's of the best cowhides to offer our beloved customers. We want to thank you for joining us in this journey and appreciate each one of you for supporting our family business for over 25 years.
Shipping Information
All of the rugs listed here are in stock and ready to ship out right away. Tracking is included with all orders. As soon as your rug ships out you will receive an email confirmation of your order and within 24-48 hours a tracking number so you know exactly when your item(s) will arrive.
Your Hudson Hides certificate of Authenticity will be shipped together with your rug in the same box.
Order Processing Time: 24-48 hours
Shipping times: Standard (Free), Expedited shipping times available at checkout
Shipping Price: Free shipping over $199 in USA.
Return Information:
We want you to love your new rug! If for any reason you decide this rug isn't the right size or fits your room just right, we have a Hassle-free 30 Day return policy. Please read our return policy for full information.